[1]
[2]
[3]
[4]
[5]
[6]
Next >>
This example will show you how easy it is to create a panorama with PTGui. We will use the following six images of the cathedral in Amiens, France. The images were shot handheld, with a digital camera.
PTGui can handle almost every kind of image, in any orientation. It is not required to keep the camera level, as you can see in this example. But for the best results remember the following:
All images should be taken from the same viewpoint
When photographing, try to rotate the camera around the 'no parallax point' (the optical center of the camera/lens). Otherwise, parallax errors will occur, similar to the difference between the images you see with your left eye and right eye. This is less important if there are no objects near the camera (i.e. landscape scenes).

Lock the camera's exposure and white balance
Although PTGui compensates for exposure differences, you will get the best results if there are no brightness or color differences in the images.
The source images (
download in 8 MB zip file
):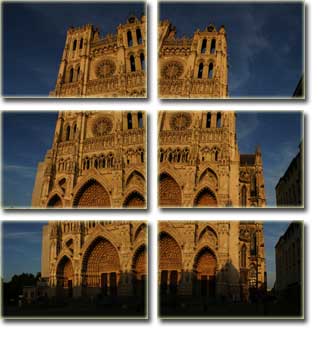 [1]
[2]
[3]
[4]
[5]
[6]
Next >>