A new version of PTGui will be released soon, and you can download a beta version already. This beta version is now being tested and may still be unstable. If you don't encounter problems with PTGui 10.0.19, it is better to wait for the next release version.
PTGui 11 beta
After two years of preparation we're proud to release the beta first version of PTGui 11!
Why the long wait? Over the years we've gathered many ideas for improvements and new functionalities in PTGui and many of those features have been implemented over time. But we've found that more and more ideas remained on the shelf because they would require major changes to the inner workings of PTGui.
PTGui was originally released in 2001. Over the past 16 years software development technologies have evolved significantly. Some of the original design decisions were hampering the implementation of certain features. And of course user interface design has changed a lot over the years and PTGui was starting to look dated. So we've taken a step back and rebuilt much of PTGui's foundation, and PTGui 11 beta is the result!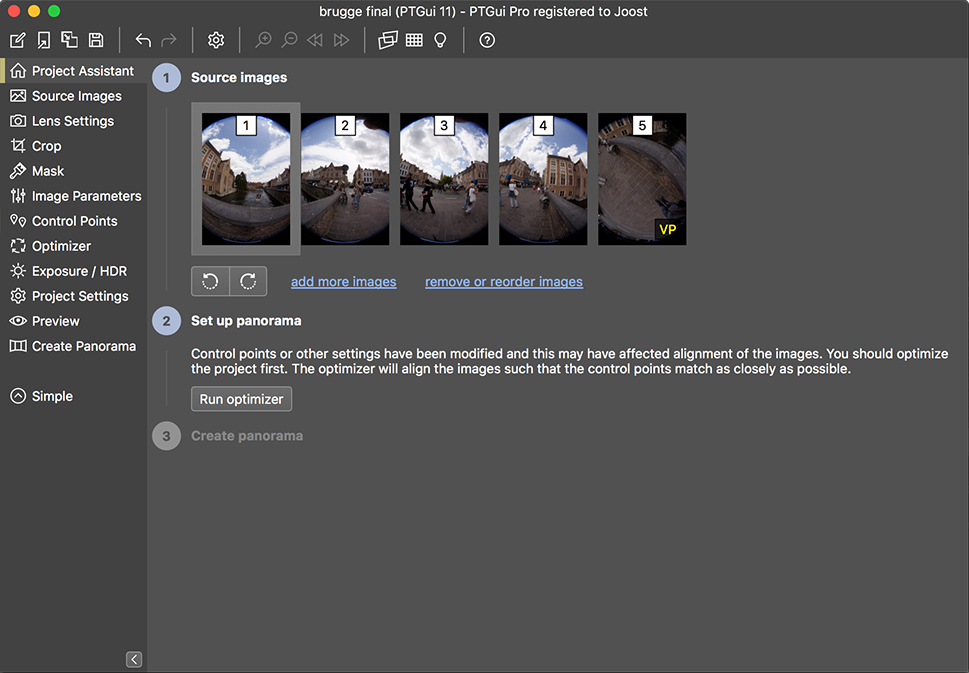 The most obvious change is a new modern, dark themed user interface. PTGui 11 uses collapsible panels to make the tools available where you need them but without occupying precious screen real estate. The familiar row of tabs at the top of the window have been moved to a vertical panel at the left side, to be more consistent with current user interface concepts. The side bar can be collapsed to make more space available. The numbered tabs for selecting images (e.g. in the Control Points tab) have been replaced with image thumbnails, so you can see which image is which. And PTGui 11 is fully compatible with Retina screens and supports per-monitor high DPI under Windows.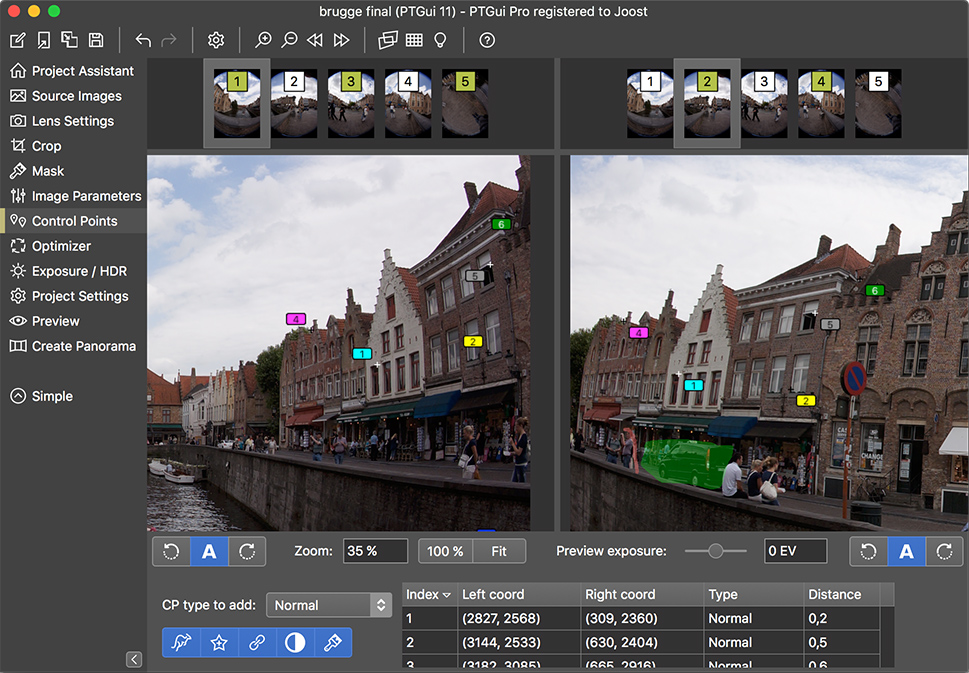 In the Pro version handling of HDR panoramas has been much improved. Throughout the entire user interface bracketed sets of images are now treated as a single image. Each bracketed set is represented by a single exposure fused thumbnail image. So for example, when using 3 step bracketing you now only have to deal with 5 images instead of 15! The control points editor simultaneously shows all control points for the combined images in two bracketed sets. It is also possible to view individual images (by clicking on the thumbnails in the Control Points tab, or using the keyboard shortcut Ctrl+Alt+Up/Down on Windows, or Cmd+Alt+Up/Down on Mac). The Image Parameters screen can be collapsed to show bracketed groups or it can be expanded to edit the parameters of individual images in each set.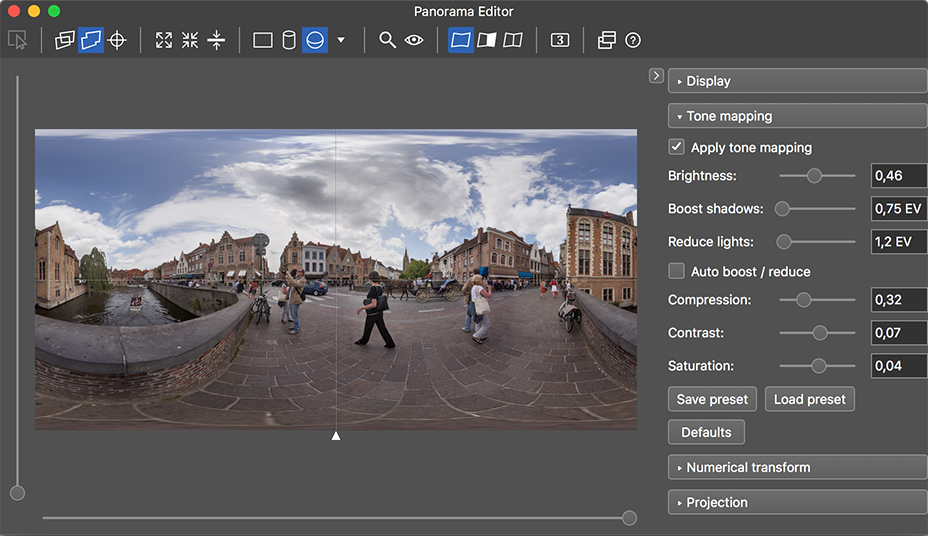 The Panorama Editor and Detail Viewer now use the same stitching engine as used for the final render. This gives a true WYSIWYG preview of the panorama, in real time, properly blended and anti aliased at screen resolution. No more blurry previews in the Panorama Editor or shimmering in the Detail Viewer! The panorama editor in PTGui Pro 10 had limited functionality when working with HDR panoramas. Not so any more: you now get a live tone mapped or exposure fused preview. HDR settings can be adjusted right in the panorama editor, in the collapsible side bar panel. The Panorama Editor and Detail Viewer now benefit from OpenCL GPU acceleration.
EXIF metadata parsing has been improved as well. PTGui can now read most manufacturer dependent 'maker notes'; this allows it to not only determine the focal length but in many cases also the actual lens brand and model. The lens parameters will be initialized correctly, whereas PTGui 10 would sometimes mistake a wide angle rectilinear lens for a fisheye or vice versa.
Speaking of lenses, PTGui changes the parametrization of lens data: instead of characterizing a (rectilinear or fisheye) lens by its horizontal field of view, PTGui 11 stores the focal length. Lens shift (i.e. the offset of a lens' optical axis) is now stored as relative offsets on the short and long image dimensions, instead of absolute x/y pixel offsets. These two changes finally make it possible to mix portrait and landscape images in the same project. There's one caveat: for portrait images PTGui needs to know whether the camera was rotated clockwise or counter clockwise in order to apply the lens shift in the proper direction. This can be selected in the Lens Settings tab.
For fisheye lenses PTGui 11 introduces a new fisheye projection parameter (k in the formula below), allowing it to perfectly model all practical fisheye projections (equidistant, stereographic, orthographic and equisolid).
For some background see
Fisheye Projection
. Presets for many known fisheye lenses are included, and selected automatically when a known fisheye lens is recognized in the EXIF data. By knowing the exact fisheye projection PTGui is able to find more control points, particularly in the edges of fisheye images. Furthermore it allows PTGui to set the cropping circle (for circular fisheye lenses) more accurately.
The lens database has been redesigned and now includes the circular fisheye cropping parameters as well. Due to the new lens parametrization the same entry can be used for both portrait and landscape images. Lens database entries can be linked to EXIF data, resulting in the lens data to be set automatically when loading an image from a specific camera/lens combination. Similarly there's now a camera sensor size database for automatically setting the sensor size / crop factor based on the EXIF data.
PTGui now supports multiple cameras and lenses in the same project. For example a gigapixel panorama might be taken with a long 300mm lens but such level of detail is not necessary for the sky. The sky images can now be photographed with a wider angle lens and stitched in the same project. The control point generator will find control points between images from different lenses. Exposure and vignetting optimization will use separate curves for each lens. In PTGui 11 it is possible to use vignetting correction when merging camera images with an already stitched equirectangular panorama.
Viewpoint optimization for an image can be enabled right from the Project Assistant, by right-clicking on the thumbnail. If viewpoint correction is enabled for an image, the control point generator will notice and it will find control points even if the image was taken from a significant viewpoint offset.
Over the years the PTGui .pts project file format has extended upon the original script file format used by Panorama Tools. All the new (and future) changes no longer fit well in this format; therefore PTGui 11 switches to a new JSON based file format. This will make it much easier to incorporate new features in the future. Of course PTGui 11 can read project files from previous versions. Also an 'export to PTGui 10' function is included to enable interoperability with previous versions and third party software, although this will not cover the new functionalities and parameters. Due to all incompatible changes the Panorama Tools optimizer can no longer be used with PTGui. However, the PTGui optimizer now natively supports 'line type' control points and thus covers all functionalities available in the Panotools optimizer.
Other changes:
Image numbers now start at 1 instead of 0
Smooth zooming in the Control Points, Crop and Mask tabs. Mac users can use Pinch gestures to zoom
Images can be re-ordered by dragging them in the Source Image tab. Multiple images can be dragged at once.
Batch Lists files are now supported in the standard version. Previously this was a Pro feature.
GPU acceleration under Windows for AMD GPUs now runs in 64 bit mode, allowing use of more than 2GB of GPU memory
BigTIFF support! Gigapixel panoramas can be output as .tif and are no longer limited to the proprietary Photoshop .psb format. The BigTIFF dialect is used automatically when the generated .tif image turns out to be larger than 4GB.
Reduced memory use when handling large panoramas in the GUI. When opening a project in PTGui 10 all images would be loaded in memory (and subsequently swapped to disk). PTGui 11 only keeps reduced size thumbnails in memory, loading full size images when needed.
The OpenEXR library has been updated to v2.2, improving compatibility with other applications.
PTGui is now a single process application: multiple projects can be open in a single running PTGui application. The Batch Stitcher runs in the same process. In particular on Mac this is the expected behavior: there's only one icon visible in the Dock. File - Open and File - New will open a new window. Double clicking a .pts file will open a new PTGui window instead of replacing the existing one.
Improved ability to handle symmetrical panoramas: PTGui 10 could get confused by images taken from the center of a symmetrical room. It would place control points not only on overlapping images, but also between similar looking features on opposite sides of the room. This caused a completely misaligned panorama and confused users. PTGui 11's Align Images function handles this more intelligently and generally gives a perfectly aligned panorama.
Added option to use simple alpha blending instead of the default Multiband blending algorithm. This is useful for combining non overlapping images such as cube faces where multiband blending causes defects. And when stitching 32 bit HDR source images alpha blending may give better results .
The PTGui stand alone panorama viewer now uses Lanczos pixel interpolation, resulting in a sharper image (previously it used bilinear interpolation).
New menu option: Images -> Select -> Blend Plane, to select all images at a certain EV level. This replaces the EV selection button in Create Panorama -> Advanced.
Panorama output size can be fixed to either a percentage of the optimum size, or to a certain number of megapixels. The output size is recalculated automatically after changing the projection or field of view.
The scroll bars of the two images in the Mask tab can be linked, just like in the Control Points tab.
Optimizer now offers 3 choices for viewpoint optimization: Reset / Keep / Optimize. Reset disables optimization and will reset the viewpoint parameters to 0. Previously this had to be done manually after disabling viewpoint optimization.
Control point generator now supports equirectangular images as well.
Control point generator works well with 32 bit HDR source images. In PTGui 10 it was often necessary to add control points manually.
Beta updates
Version 11 beta 2 (14 July 2017)

PTGui 11 no longer inherits the PTGui 10 'File - Make Default' settings but uses its own presets.
If the panorama size is set to e.g. 50% of optimum size, this now means half the width and half the height (i.e. 25% of the number of pixels). The first beta would set it to 50% of the area, i.e. 71% of width and height.
Enabling Viewpoint Correction in the Project Assistant no longer switches the project to Advanced mode
Zoomer is not shown while shift+dragging a selection box in the Control Points tab
Scroll bars are wider under Windows
New menu item: Images -> Remove Excluded Images (also in context menu in Source Images tab)
New menu item: Images -> Exclude/Include [only] Selected Images (also in context menu in Source Images tab)
Images excluded from the panorama are indicated by a red cross over the thumbnail
Calibrated lens parameters added for these lenses: Samsung 10mm f3.5 Fisheye, Nikon AF Fisheye Nikkor 16mm f2.8D, Sigma 10mm F2.8 EX DC HSM Fisheye, Panasonic Lumix G 8mm f3.5 Fisheye, Sigma 8mm F4 EX Circular Fisheye, Entaniya 220, Entaniya 250 and Entaniya 280.
sliders (e.g. Preview Exposure) now 'snap' at the value 0, so they can be easily reset to zero.
For rectilinear and fisheye lenses the horizontal field of view can now be specified in the Lens Setttings tab.
Additional menu and keyboard shortcuts for zooming to 10%, 25% and 50% in the Mask, Crop and Control Points tabs
Mac: Keyboard shortcut for toggling full screen mode: Ctrl+Cmd+F
Mac: Touchpad two-finger rotate gesture can be used to rotate the images in the Mask, Crop and Control Points tabs
Fixed: several bugs causing PTGui to crash
Fixed: several bugs causing 'Assertion failed' errors
Fixed: Align Images could result in an upside down panorama
Fixed: wrong stereographic projection if compression was not set to maximum
Fixed: garbled output for Vedutismo projection
Fixed: blending with Smartblend or Enblend caused a crash
Fixed: failed to load LZW compressed TIFF files (Blue/white checkered pattern)
Fixed: wrong mouse pointer when hovering over the scroll bars in Control Points and Mask tab
Fixed: Align Images could fail to find control points if some of the images are identical or overlap exactly
Fixed: if two images overlap exactly and 'show seams' is enabled, a random pattern of red dots would be visible.
Fixed: in certain circumstances parts of a source image would not be used, leaving a hole in the blended panorama
Fixed: in certain circumstances PTGui generated broken photoshop files
Fixed: Mac: when changing the crop circle, the crop circle would continue to move after releasing the mouse
Fixed: mac: selecting 'tone map settings' or Numerical Transform while the panorama editor was closed, would open an empty window instead of the panorama editor.
Fixed: moving a control point using the keyboard arrows would move in the wrong direction if the image was displayed rotated
Fixed: Mac: Keyboard shortcuts (e.g. Cmd+W for closing window) did not function correctly in some windows
Fixed: PTGui would crash on macOS versions 10.10 and earlier. PTGui 11 now runs on OS 10.7 and later.
Fixed: Preview size was not imported correctly from PTGui 10 projects
Fixed: error '' is not a number when importing a PTGui 8 project
Fixed: optimizer tab: if individual lens/shift parameters were used, some of the columns in the table were too wide
Fixed: crash when closing the window and choosing 'Yes' when asked to save the modified project
Fixed: Several bugs related to File - Make Default
Fixed: Mouse cursor could be invisible (e.g. black on black) in Control Points and Mask tab
Fixed: 'Generate Control Points for images .. and ..' was not available or displayed the wrong image numbers
Fixed: holding down Ctrl (Cmd on mac) while dragging a control point marker slows down the mouse additionally (as in PTGui 10).
Fixed: PTGui could hang during control point generating (or during Align Images)
Fixed: PTGui Viewer would crash if an unsupported file format was dropped onto the window
Fixed: PTGui Viewer would crash if a new file was dropped onto the window while it was still busy loading the previous panorama
Fixed: Mac: PTGui Viewer had duplicate keyboard shortcut: View - Enter Full Screen
Fixed: In Mask tab, if zoom level was zet to 'Fit', selecting 'Zoom In' would actually zoom out
Fixed: Optimizer could optimize the lens parameters towards extreme wide or narrow focal length and get stuck
Fixed: Thumbnails of source images could be blurry
Fixed: Mac: Some dialog boxes could not be dismissed using the Escape key
Version 11 beta 3 (19 September 2017)

Redesigned memory management, to improve stability and performance
If multiple temporary folders are configured, PTGui will now attempt to use all folders in a balanced way. This improves performance (similar to RAID 0) when stitching panoramas using 2 or more SSD drives for temporary storage. Previously it would store temporary files on the drive with the most space available.
Any temporary files created by PTGui are guaranteed to be removed after closing PTGui. Previously temp files would not be removed if PTGui crashed or was forcefully closed.
Temporary data is now written to disk in a few large files instead of many small ones, improving performance.
Windows: if a progress window is being shown ('please wait...'), the menu bar is still accessible. A new PTGui window can be opened via File - New Launch New Instance even when PTGui is busy.
Better error message when attempting to level a panorama consisting of a single source image (levelling requires 2 or more source images).
Some Fujifilm cameras (incorrectly) record a focal length of 50mm in the EXIF data when a manual lens is used. PTGui identifies and corrects this.
If the Camera Sensor Size and Focal Length dialogs (which pop up when EXIF data is not available when adding a new image to a project) are canceled, the image is still added to the project. This is the same behavior as in PTGui 10.
Added lens data for Nikon AF-S Fisheye - Nikkor 8-15mm f/3.5 - 4.5E ED
Windows: the installer now supports silent installation: PTGuiSetup.exe /S /D=C:\Program Files\PTGui
Faster scrolling when clicking in a scrollbar outside the thumb
EXR output: the compression algorithm and bit depth (32 bit full float or 16 bit half float) are now configurable
If stitching is canceled, or aborted due to an error, all incomplete output files will be deleted. Previously PTGui would leave unfinished corrupt files, potentially causing other applications to crash if they attempted to load the corrupt file.
Panorama Editor & Detail Viewer: added keyboard shortcut keys [B] [U] and [S] to switch to the Blended, Unblended and Seams preview, and shortcut [N] to toggle displaying of image numbers
After placing the first marker of a control point, the marker can be moved using the cursor keys
When placing the second marker of a control point, the magnifier for the first point will remain visible
Changed the wording of the 'use EXIF' checkboxes in Project Settings
Fixed: PTGui could crash randomly
Fixed: Apply Template would delete all control points
Fixed: Apply Template did not copy all settings from the template (in particular Exposure and color adjustment settings)
Fixed: a vertical line could be visible when remapping a 360 degree source image or when creating a Philosphere
Fixed: error for certain tiff files: "Invalid TIFF file: number of elements in BitsPerSample should equal SamplesPerPixel"
Fixed: Batch Builder would display certain thumbnails rotated by 90 degrees
Fixed: Assertion Failed error when stitching large equirectangular panoramas
Fixed: when optimizing a panorama with only vertical/horizontal line control points, and 'Level in second pass' selected, running the optimizer would show the error 'failed to achieve a good alignment of the images' even though levelling succeeded.
Fixed: for manual lenses on certain cameras an aperture of 'nan' (not-a-number) was detected from EXIF
Fixed: reloading the active project (e.g. via File - Recent Projects) would clear the panorama editor
Fixed: Auto Jump did not work if two identical images were selected in the CP tab (for adding hor/vert line control points)
Fixed: Windows: some dialogs could not be dismissed (Cancel) using the Escape key
Fixed: If default project settings were changed using 'Make Default', PTGui would ask to save changes even if the project was a new project without any modifications.
Fixed: If Make Default was done with a project in Simple mode, subsequent File-New would open in Advanced mode
Fixed: Straightening a panorama failed for multi row panoramas with a narrow vertical field of view
Fixed: color profiles in TIFF files were ignored. The resulting panorama would not have the color profile embedded, causing color differences.
Fixed: some of the keyboard shortcust were labeled "Ctrl+Alt", others "Alt+Ctrl"
Fixed: Images -> Select -> Blend Plane is enabled for HDR projects only
Fixed: When applying a PTGui 10 template, the panorama output dimensions could be changed to a very large value
Fixed: crash if writing a jpeg or tiff file failed (e.g. due to full disk). Now shows an error message instead.
Fixed: progress bar on mac looked ugly at small percentages
Fixed: exporting a project with 'link pitch' or 'link roll' to PTGui 10 would save a project with all pitch/roll optimization checkboxes cleared
Fixed: Mac: keyboard shortcuts for the Mask menu were not shown
Fixed: Control Points tab: Ctrl+Alt+arrow keys didn't work properly if the HDR blend plane selection popup balloon was shown
Fixed: right-click in the panorama editor: the context menu would show other images than the ones below the mouse pointer
Fixed: Mac: Ctrl+left mouse button didn't work as an alternative for the right mouse button (for context menu, dragging)
Fixed: Mac: dragging/dropping files from Finder into PTGui would keep the Finder locked up while PTGui was showing a dialog box
Fixed: Control points for images having the 'use control points of' flag cleared now have an empty distance value in the control points table
Fixed: The numbers in the control point markers did not match the numbers in the control points table
Version 11 beta 4 (14 February 2018)
First of all: software piracy has been a ongoing problem for almost the entire 17 years of PTGui's existence. To protect against piracy PTGui 11 will require online activation upon installation. The licensing itself has not been changed, e.g. a personal license may still be installed on up to 3 computers simultaneously for personal use, it's just that we now enforce this limit through activation. We've made it as user friendly as possible: if you buy a new computer PTGui can be deactivated with one click and immediately moved to a different machine. There's a backup offline activation method for computers not connected to internet. Activations can be managed online using just the license key. And in case of a hard disk crash, a stolen laptop, etc., you will be able to recover the license and install PTGui on a replacement computer.

Beta 4 contains many new features and improvements:

It's now possible to tell the control point generator to look for control points only in overlapping image pairs (Pro version only). This should give a significant speed improvement when aligning gigapixel panoramas and reduces the chances of faulty control points. The images should be roughly positioned beforehand, using Align to Grid, by applying a template or by loading a PapyWizard XML file. This behavior can be enabled using the 'Images are already roughly positioned' flag in Project Settings - 'Align images' behavior. This flag also appears in the Project Assistant when appropriate, after applying a template, after applying a PapyWizard file or after using Align to Grid. Also a new option 'Generate Control Points for overlapping images' has been added to the Control Points menu.
The control points table in the Control Points tab has been moved to the right hand side of the window. Control point numbers are shown in the same color as the corresponding markers in the images. The table can be collapsed when it is not needed.
The Fill Yaw function is available again: select a group of images in the Image Parameters tab, then right click and select 'Fill Yaw' from the context menu.
The contents of the metadata dialog box has been moved to a new Metadata tab in the main window.
Batch Builder: new layout. The options for combining and removing projects are no longer shown as hyperlinks in the projects list, but have been moved to the right-click context menu.
Batch Builder: new configuration 'Multiple cameras, one subfolder per camera'. This is intended for creating time lapse panoramas using multi camera rigs. The memory card from each camera can be copied to a separate subfolder. Each subfolder should contain the same number of images, in the same ascending numerical order. The generated project files will take one image from each folder.
Individual Crop is back. It's slightly different from PTGui 10: in PTGui 11 individual crop only applies to the position (not the size) of the cropping circle/rectangle. The size of the cropping area is part of the lens parameters, so it is common to all images sharing the same lens.
Dedicated support for dual fisheye images from the Samsung Gear 360, Xiaomi Mijia Sphere and YI 360 cameras. These cameras produce a single image containing two circular images side by side. When adding such an image to a PTGui project the image will automatically be loaded twice, with different cropping circles and masks, positioned at -90 and +90 degrees yaw. This behavior can be disabled in Project Settings - Miscellaneous if necessary. This even works in the Batch Builder. Due to manufacturing tolerances there will be small differences between individual cameras of the same type, resulting in different small offsets of the image circles. A template can be created for each individual camera by taking a photo (outside, with no objects close to the camera), adding control points and optimizing. Then do File - Save As Template. This template can be used via File - Apply Template, or in the Batch Builder.
Added lens parameters for Meike MK-6.5mm f2.0 Fisheye, GoPro Fusion, Xiaomi Mijia Mi Sphere 360 and YI 360.
OpenCL is now initialized in the background. No longer shows the 'Initializing OpenCL...' window upon startup.
True command line stitching without showing any windows. Launch PTGui with the -stitchnogui flag, followed by one or more project files and/or batch lists. The command does not return until stitching has finished, so this makes it easy to include PTGui as part of a larger batch process.
On macOS launch as follows:


"/Applications/PTGui Pro.app/Contents/MacOS/PTGui Pro" -stitchnogui project1.pts project2.pts batchlist.ptgbatch

On Windows:


START "" /B "C:\Program Files\PTGui\PTGui.exe" -stitchnogui project1.pts project2.pts batchlist.ptgbatch

New option in Project Settings - Template Behavior controls the way images are linked in the target project when applying a template. Three options:

Link images in the same way as in the template
Automatically link images based on exposure (EXIF)
Don't modify the way images are linked

This makes it possible (for example) to apply a template of a non-HDR project to an HDR project with bracketed images.
New option: Project Settings - Miscellaneous - Set the panorama projection to 360 equirectangular when loading wide angle images. This immediately changes the panorama projection when loading a spherical 2:1 image or an image with a field of view of 160 degrees or more. Re-projecting an equirectangular image can now be done just by loading a 2:1 equirectangular image into PTGui and dragging in the Panorama Editor.
Load Mask and Paste Mask now merge the pasted/loaded mask with the existing mask (instead of replacing). This is the same behavior as in PTGui 10. To truly replace a mask, clear it first.
Improved mouse response in Mask tab
Images can be linked/unlinked using the right-click context menu in the Source Images tab.
It's now possible to make disjoint selections by holding down the Control key (Windows) or Command key (Mac) while clicking cells. This works in e.g. the Source Images tab, Image Parameters tab and in the Control Points table.
Images can be included/excluded by right-clicking on the thumbnail in the Project Assistant, and in the Panorama Editor in 'edit individual images' mode.
Batch Stitcher: the ordering of projects can be modified. Projects can be dragged up and down by clicking in the left hand header.
Performance improvements and reduced memory usage.
Many cosmetic improvements in user interface.
All windows and dialog boxes have now been converted to the new dark themed layout.
All windows now have a dark themed title bar in Windows 10.
Fixed: Batch Builder would ignore any individual lens parameters (or multiple global lenses) in the project
Fixed: Mac: Enter key to confirm did not work in some dialog boxes and in the Image Parameters tab
Fixed: Windows: the keys RGEDFKL triggered the Mask menu shortcuts even when the cursor was in a text field, so it was not possible to enter those characters as part of the output file name.
Fixed: dragging the cropping area, or dragging the selection rectangle in the Control Points tab would move in the wrong direction if the image was rotated 90 degrees.
Fixed: moving or resizing the cropping area would generate many small Undo steps, instead of a single Undo step for the entire movement.
Fixed: Replace Images failed when attempting to replace multiple images with identically named files in a different folder
Fixed: Olympus ORF files were loaded 90 degrees rotated
Fixed: 'Load Mask' was missing from the Source Images context menu, so it was not possible to load a mask for multiple images at once.
Fixed: Align to Grid: the grid was always applied starting at the first image. The image range set in the 'apply to' section was ignored.
Fixed: using the cursor keys in certain grids (CP table, source images table) did not scroll the selection into view.
Fixed: Panorama Editor grid lines were hardly visible on high DPI / retina screens.
Fixed: Export to PTGui 10 would create corrupted project files if the source image file names contained non-western characters.
Fixed: Optimization did not keep images without control points in place. This caused problems when running Align to Grid if some images contained only blue sky.
Fixed: When using HDR source images the thumbnails would be displayed with a wrong gamma curve (exaggerated contrast).
Fixed: Mac: closing a full screen window would leave an empty black window on the screen.
Fixed: GPU accelerated stitching failed with 'Unknown Error' on certain nvidia cards (Quadro, GT630 and others).
Fixed: 'Generate Control Points Here' often failed when using 32 bit HDR source images.
Fixed: 'Link Scrollbars' (CP and Mask tab) did nothing if the same image was selected in both panels.
Fixed: If a Preview Exposure was set, the mouse pointer in the Mask and Control points tab could become invisible (black on black).
Fixed: 'Auto Add' in the Control Points tab did not function if the images were displayed rotated.
Fixed: Image numbers did not appear in the Panorama Editor when running under Windows 7
Version 11 beta 5 (14 February 2018)


Fixed: beta 4 would crash if the 'Always on Top' button in the Panorama Editor had been enabled while running a previous version. For the time being the functionality to keep a window on top has been disabled entirely, it will be properly fixed in a future update.
Version 11 beta 6 (19 February 2018)


Fixed: On some systems PTGui failed to startup, showing an error message
Fixed: the feature to generate control points for overlapping images only (new since beta 4) did not generate control points for all overlapping images. Certain overlapping rows/columns would be skipped, resulting in misaligned panoramas.
Fixed: Generate Control Points for only a subset of the images would take longer than necessary, because PTGui would still analyze all images in the project.
Version 11 beta 7 (14 March 2018)


Align Images will now center the panorama on the first image if all images initially were at yaw = 0 (which is the default for a new project)
New option: 'Control Point Editor -> Reset CP type to add when switching to different images'. If selected (which is the default), the 'CP type to add' in the Control Points tab will be reset to the default value after switching images. The default value is 'Normal' if two different images are selected, or 'Vertical Line' if the same image is selected in both panels.
Batch Builder: the 'Batch Stitcher actions - Do Align Images' setting from the template is now also shown in the Batch Builder. This setting is a common source of confusion, so this should make it more clear what the batch stitcher will be doing.
PTGui 11 continuously recalculates the control point distances in the background (PTGui 10 only did this when running the optimizer). This is now done at a slightly lower priority, so that it does not affect user interface responsiveness.
Options/preferences: checkbox 'Show rounded values when the cursor is not in a numeric field' is back, this was missing from the previous PTGui 11 betas.
Detail viewer: reversed the direction of the zoom slider, it is now the same as PTGui 10: Upwards zooms in, downwards zooms out
Fixed: 'Resolution' field in metadata could not be changed from the default 300 ppi.
Fixed: Control Points Table window: the scrollbar would not be shown if the window was too small
Fixed: Horizontal control points were ignored (only vertical line control points were used) by the Level Panorama function
Fixed: Project Settings: the checkbox 'Initialize the lens settings for each project using EXIF data in the images (override lens settings in this template)' is cleared after loading the first image. So the batch builder will (by default) only look at the EXIF data if the template is an empty project. This is the original behavior, but beta 4-6 failed to do this.
Fixed: Batch Builder: if the 'Initialize the lens settings for each project using EXIF data in the images (override lens settings in this template)' was set, the entire Project Settings page in the template was ignored. In combination with the preceding bug, this happened for every project.
Fixed: Convert to Cubic/QTVR: a too small cube face size would be used if set to Automatic
Fixed: When restarting, PTGui did not remember if the panorama editor, detail viewer and control points table were visible
Fixed: if the panorama editor window was minimized to the task bar, pressing the Ctrl+E shortcut didn't restore the window. The same applied to all other tool windows.
Fixed: failed to load certain LZW compressed TIFF images (resulting in white/blue checker pattern)
Fixed: On Windows 7, with the Classic Theme enabled, the title bars and borders of the windows were missing
Fixed: With certain Windows display settings, the image numbers in the Panorama Editor and Detail Viewer were missing
Fixed: Windows 10: when using multiple monitors, if a window was maximized it would draw a grey border at the edge of the other monitor
Fixed: Mac: PTGui viewer would crash on older machines (without AVX support).
Fixed: 'always on top' buttons in the Panorama Editor and Detail Viewer did not work
Fixed: Auto Add would place control points at wrong location if one of the images contained overexposed (pure white) areas
Fixed: Auto Add (in the Control Points tab) now gives keyboard focus to the target image. So the keyboard arrows will move the target point instead of the source point
Fixed: Using the keyboard keys in the control points tab now move the mouse pointer and the zoomer, to follow the control point
Fixed: Apply Template ignored any individual Crop offset settings
Fixed: mac: PTGui could be hidden behind other windows after launching. It is now started in the foreground.
Version 11 beta 8 (17 April 2018)


Further improvements to the control point generator
When editing control points in bracketed images, the previous PTGui 11 betas would pop up a window asking in which of the bracketed images the control points should be added. This is no longer necessary, PTGui will decide in which images the control points should be placed and the Control Points tab will keep showing the merged bracketed images.
If 'auto add' is enabled, the control point will be added to the most appropriate EV (i.e. the one which is not over- or underexposed at the given control point location).
If Auto Add is not enabled, the new control point will use the middle (0EV) exposures.
The 'generate control points here' function will analyze and add control points to all pairs of EVs separately.
It's still possible to add control points to a specific pair of images from the bracketed set by using the popup balloons from the list of thumbnails in the Control Points tab, or by using the Ctrl+Alt+Up/Down (Windows) or Cmd+Alt+Up/Down (Mac) keyboard shortcuts.
When loading a project or adding images, PTGui initially attempts to load the thumbnails embedded in the image file (if available). This gives a nearly instant panorama preview, even for panoramas consisting of hundreds of images.
The computer is now prevented from going to sleep while stitching, aligning and optimizing projects.
Now properly handles the situation if images have different dimensions or bit depth than at the time the project was saved. When loading such a project, it is updated with the new image sizes; masks and control points are scaled to the new dimensions.
Images are reloaded automatically if they are edited in another application.
Performance improvement for the user interface when handling very large panoramas (1000s of images). The user interface would keep locking up for a second while changing the projection parameters in the Panorama Editor.
Convert to cube faces: this now adds the focal length to the EXIF data of the generated images. When loaded back in PTGui, the lens parameters are set to 90 degrees field of view.
Added lens profile for Samsung Gear 360 (2017 model)
Added sensor size data for many new camera models
Fixed: reduced memory usage and increased speed for rendering very large panoramas containing masks
Fixed: the 'Bracketed Exposures' window (which pops up when pressing Align Images) did not show the Exposure Fusion / True HDR choice. It now does, like PTGui 10.
Fixed: the PTGui Viewer could fail with the error 'No compatible GLSL version found'
Fixed: Windows: when zooming in the Control Points / Mask tab, the left hand image would refresh immediately but the right hand image would be updated only after some time.
Fixed: PTGui would output non standard data in the exif ISOSpeedRatings field. Other applications would not read the ISO value from files generated by PTGui.
Fixed: When outputting a panorama in rectilinear or fisheye projection, the focal length value embedded in the EXIF data was wrong
Version 11 beta 9 (20 April 2018)


At last! A straightforward method for assembling cube faces into an equirectangular image. Just start a new project, add the 6 cube face images and go straight to Create Panorama. The file names should match the Cube Face Names set in the Convert to QTVR/Cubic window. PTGui will use these names to figure out which of the 6 images is which cube face.
Fixed: Errors when displaying very large source images at 100% zoom in the Control Points, Crop and Mask tabs
Fixed: the grid in the Panorama Editor could not be adjusted
Fixed: didn't recognize certain images from Yi360 (from earlier firmware versions?)
Version 11 beta 10 (15 May 2018)


Improved automatic lens recognition for certain lenses
Improved 'Delete Worst Control Points'
Delete Worst Control Points now runs the optimizer after completing
Changed the automatic scrolling behavior when painting masks or dragging control points near the edges of the viewport
Removed the 'this is a beta version' message upon startup
Fixed: Windows: due to a GDI resource leak, after a certain time black or white rectangles would be painted in the user interface, or PTGui would crash after some time
Fixed: Windows: slow writes to external network drives (NAS or SMB shares)
Fixed: PTGui would crash or hang if it ran out of disk space in the temporary folders
Version 11 beta 11 (16 May 2018)

Version 11 beta 12 (16 June 2018)


The .pts project file format has been changed in an incompatible way. This beta can read project files created with earlier betas, but earlier betas will not be able to read projects created in this beta.
Documentation is now included. Detailed help is now provided mostly in tooltips. Overview documentation for each window is available by pressing F1 (Windows), Fn+F1 (Mac) or by pressing the Help buttons.
dcraw updated to 9.28
Batch Stitcher: double clicking on a project in the batch stitcher queue will open the project in a new window
Added lens data for Insta 360 Pro
Faster loading of source images, in particular from spinning hard disks.
PTGui no longer permits optimization of the fisheye factor and a/b/c at the same time. These parameters interfere and should therefore be optimized separately.
'Feather' field in Create Panorama now has a numerical entry box as well
Dark / Light window theme can be selected in Options / Preferences.
PTGUi windows can now be moved around the screen by dragging the toolbar (previously only the title bar could be dragged)
The command line options -x (to close the batch stitcher when done) and -d (to delete the project file after stitching has completed) have been added. They were available in PTGui 10 but still missing in PTGui 11.
If projects are added to a running batch stitcher using the -batch command line option, PTGui no longer steals keyboard focus. The batch stitcher will process the files without bringing the window to the front.
When opening Numerical Transform using the keyboard shortcut, the first field (Yaw) gets keyboard focus
Edit Individual Images mode in the panorama editor now behaves as in PTGui 10: while dragging an image, the image becomes semi transparent
Fixed: when launching PTGui, the panorama editor or other windows would be opened on top of the main window. Now the main window will be on top.
Fixed: several causes of crashing.
Fixed: Error message 'unsupported image format' for Samsung .srw files.
Fixed: Certain raw files would be loaded 90 degrees rotated.
Fixed: Mac: single line text fields (e.g. the Output File field in Create Panorama tab) would perform word wrapping internally, so not the entire contents of the field was shown.
Fixed: Sorting the control point table by image number did not always work
Fixed: A line could be visible in the result when remapping a spherical equirectangular image
Fixed: moving a control point by holding down the keyboard arrow keys would generate many Undo steps. Now the entire move can be reverted with one Undo step.
Fixed: On Windows 10, in certain cases after starting PTGui only a small strip of the PTGui windows would be visible
Fixed: Windows: if windows were maximized on different monitors, PTGui did not properly restore the window positions; windows would be opened maximized on a different monitor.
Fixed: Assertion Failed error when deleting control points from the Control Points table.
Feedback
Since this is a beta version it may contain bugs; therefore your feedback is much appreciated. Post any bugs, comments to the
PTGui Google group
but please check the Known Issues list below before posting.
Installing multiple versions side by side
You can try the beta version without overwriting your existing copy of PTGui. On Windows select a different installation folder when prompted during installation (e.g. C:\Program Files\PTGui Beta). On Mac the PTGui application can be copied from the install disk image, renamed, and installed in any folder on your mac, not just the Applications folder.
If you have accidentally overwritten your copy of PTGui you can always download the former version again from this website.
Download
Download PTGui or PTGui Pro, version 11 beta 12