A new version of PTGui will be released soon, and you can download a beta version already. This beta version is intended for testing; keep in mind that it may contain bugs or run unstable.
PTGui 12 beta
On the outside PTGui 12 may look much like the previous version. But under the hood it features a rewritten stitching engine and a brand new blender!
Optimum seam placement (Pro version only)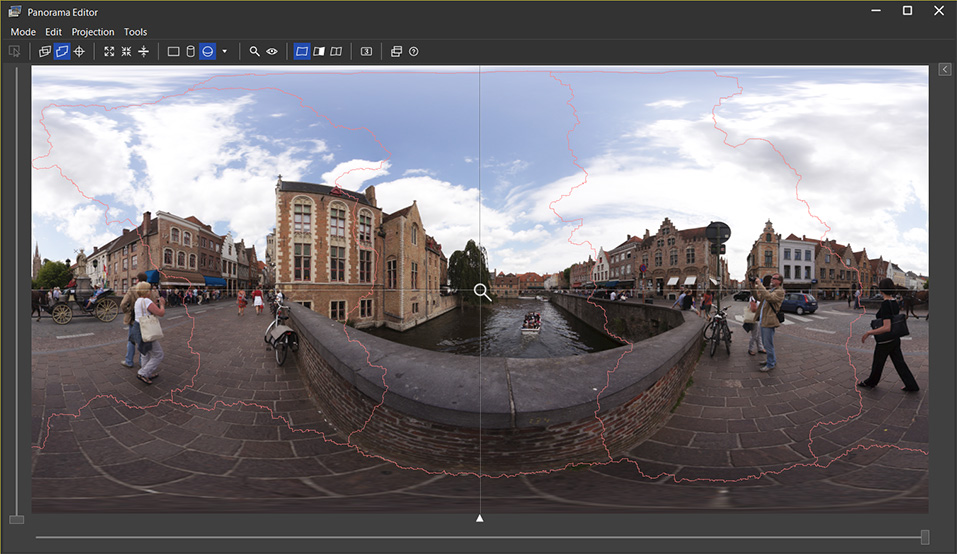 PTGui Pro 12 will analyze the regions where images overlap, and place the seams in those areas where the overlapping images are most similar. This means it automatically routes the seams around moving objects. Also, stitching errors from parallax will be hidden as much as possible.
The Panorama Editor and Detail Viewer show a live preview of the seams. Seam placement happens automatically and on the fly, but you can still fully control where the seams should go. As in PTGui 11 the seams can be manipulated using masks: a red mask will exclude an object and move the seam away from that area, while a green mask forces an area to be included in the blended panorama. Masking doesn't have to be done precisely at all: usually a green or red dot somewhere on an object is sufficient. The seam finding algorithm will recognize the object's contours and re-route the seam in an optimum path around it.
Zero overlap blending
Most existing panoramic blenders (including PTGui 11, Enblend, SmartBlend, AutoPano) use a multi-band pyramid blending algorithm. These blending algorithms perform their job in the overlap region of the images and therefore need a certain amount of overlap. In the overlap region a gradual transition is made from the average brightness of one image to the next. Generally these algorithms cannot distinguish between brightness differences caused by exposure variation and brightness differences caused by moving objects. In both cases a gradual brightness change will be created in the overlap region. As a result, moving objects in the overlap region remain visible as faint ghosts or halos. This happens even if the object is nearby the seam, but not actually cut through by it. Also, only the overlap region is available for equalizing brightness differences. If the overlap is narrow and the brightness difference large, the steep change in brightness will remain noticeable.
For PTGui 12 a new blending engine has been built which requires no overlap at all. Brightness differences are distributed across the entire image, such that any differences are minimized where the images meet at the seams. Only the area enclosed by the seams is used, with no risk of ghosting from hidden objects. Combined with optimum seam placement this can create absolutely seamless panoramas even in difficult situations with moving objects.
The new blender is of course capable of blending 360° equirectangular panoramas. As far as we know PTGui is still the only panoramic blender to properly handle the zenith and nadir of fully spherical panoramas. Even images with significant exposure differences are blended very well.
Improved HDR support (Pro version only)
HDR in PTGui 11 is based around 'blend planes': at each EV a complete panorama is stitched and blended. Finally the blend planes are merged to an HDR panorama or combined using Exposure Fusion.
To work with the new optimum seam placement, the HDR workflow had to change. A problem with the blend plane approach is that the optimum seam will turn out differently for each blend plane. Around the seams, pixels from different bracketed sets would be merged to HDR and this would result in ugly HDR artifacts. To solve this, PTGui 12 reverses the processing pipeline: now each set of linked images is first merged to HDR and then the HDR images are blended (using optimum seam placement) to an HDR panorama.
As an additional benefit, PTGui Pro no longer requires HDR panoramas to be taken in manual exposure (M) mode. This is because each set of bracketed images will be separately merged to HDR. Better yet, the number or sequence of bracketed images doesn't even have to be constant anymore. Just tell PTGui which images are bracketed sets by linking them. It's even possible to generate HDR panoramas from single, non-bracketed images taken in automatic exposure mode.
In fact, PTGui Pro 12 no longer distinguishes between HDR and non-HDR panoramas, every panorama is HDR! The stitching pipeline uses floating point data internally and any panorama, bracketed or not, can be rendered to HDR formats such as OpenEXR.
Fill Holes (Pro version only)
A handy feature in PTGui Pro 12 is the new 'Fill Holes' function. If enabled, all transparent areas in the panorama will be filled with a smooth color gradient matching the surrounding areas. While not not a true replacement for patching in an external image editor, it works well for example for filling up the blue sky in a drone panorama. Or it can be used as a quick way to cover the nadir of a spherical panorama.
In combination with masking it can be used as a tool to hide or blur objects: simply paint the unwanted contents with a red mask; PTGui will fill the resulting gaps.
Fill Holes can be enabled in the new Blending sidebar in the Panorama Editor.
Color Management
Long overdue, PTGui 12 is finally fully color managed! While PTGui 11 offers basic support for a color managed workflow, by embedding the proper ICC profile in the stitched panorama, the user interface may display images in the wrong color. PTGui 12 recognizes color profiles in source images and will display them properly on screen.
Other changes
PTGui Pro: The behavior of red masks is configurable. Previously red masked areas would always be made transparent in the warped image layers. This would result in a hole in the blended panorama if no other image overlaps. By setting 'Red Masks: Use only to adjust seams', the mask will not result in transparency, it is only used to guide seam placement.
Users of the standard version of PTGui 12 gain access to a number of features previously only available in PTGui Pro: vignetting / exposure correction, Exposure Compensation (for panoramas taken in automatic exposure mode) and most of the Project Settings tab.
PTGui 12 uses a different format for the camera response curve (Exposure/HDR tab). In PTGui 11 the curve is defined against the pixel values as stored in the image file; in PTGui 12 it is defined against the linearized image data (according to the ICC profile).
Some functionality has been removed in PTGui 12:
SmartBlend and Enblend are no longer supported for blending.
RAW file support is provided exclusively through LibRaw; support for dcraw has been removed.
PTGui no longer supports 32 bit Windows versions.
Beta updates
Version 12 beta 2 (10 Feb 2020)

Fixed: PTGui could crash occasionally

Version 12 beta 3 (20 Feb 2020)

Added support for LabPano Pilot One and Insta360 One R.
Fixed: occasional crashing, and 'Assertion Failed' errors could occur randomly
Fixed: Out of Memory errors when stitching multi-gigapixel panoramas.
Fixed: hard seam lines would be visible in the blended panorama in certain circumstances (e.g. in blue sky or patterned surfaces).

Version 12 beta 4 (13 May 2020)

Outputting Blend Planes is now supported again (PTGui Pro only). In fact it's now possible to choose between two possible HDR workflows: Either PTGui merges bracketed images first into HDR images, and then blends the HDR images into a panorama. Or it creates full panoramas at each exposure level (Blend Planes) and combines them to a single panorama (as was the case in PTGui 11). The latter option will give the best results if the images were taken in manual exposure mode. The former option works even if the panorama was taken in automatic exposure mode, but separate blend planes output is not available. By default PTGui decides automatically which of the two methods should be used, based on whether the images were consistently bracketed in manual exposure mode or not, but this can be overridden in the Exposure / HDR tab. Automatic optimum seam placement is supported in either workflow.
Exposure Fusion is now available again (PTGui Pro only). Exposure Fusion can be enabled even for non-bracketed images. In this case PTGui will create additional artificial darker and brighter copies and combine them using Exposure Fusion. This will improve detail in shadows and highlights, similar to Tone Mapping.
Switching between Exposure Fusion and Tone Mapping (True HDR) can now be done from the panorama editor's side bar (as well as in the Exposure / HDR tab).
Handling of the camera response curve has been changed. The camera curve must be known for proper vignetting correction and HDR processing, because these operations are done on the actual linear luminance values. Cameras and raw converters generally apply a toning curve to the linear data when creating a tiff/jpg image, to create a more pleasing image. In order to determine the actual luminance of each pixel, PTGui needs to know this curve, so it can 'undo' this adjustment. Previously the camera curve was part of the lens profile, but this was not ideal. First of all, RAW and HDR images contain linear luminance values, so for those images no camera curve is necessary. Secondly, when a project uses multiple lenses on a single camera, a single curve should be used for all images. Therefore the camera curve is now a separate entity in the project. Each project can contain 0 or more camera curves. In the Image Parameters tab, the camera curve for each source image can be selected, or 'Linear' can be selected if the image data is already linear and should not be corrected with a camera curve. PTGui handles this automatically: when loading HDR and RAW source images, their camera curve will be set to Linear. For all other types a default curve will be used. As previously the actual camera curve can be estimated by the 'automatic exposure and color adjustment' process in the Exposure/HDR tab. The optimization requires bracketed images (because the estimate is based on exposure differences).
New 'Post Process' side bar in the Panorama Editor. Here, global image adjustments can be made on the stitched panorama, which would previously have to be done in an image editing application. The white balance and exposure adjustment sliders have been moved from the Exposure/HDR tab to this Post Process side bar.
New white balance correction algorithm. Previously there were sliders for adjusting the red/green/blue channels but the results were limited. White balance is now adjusted by setting a Kelvin color temperature for each image (in Image Parameters tab) and a color temperature for the blended panorama. The latter can be adjusted in the Post Process tab.
Post Process - Toning Curve: this can be used to adjust the contrast of the entire panorama, and perform soft clipping of highlights.
Post Process - Saturation: here the color saturation of the image can be adjusted. Separate saturation sliders are available for adjusting saturation of the darker parts and saturation of the highlights, and the shape of the curve can be adjusted.
Improved tone mapping. The result looks much more natural.
The contrast and saturation sliders have been removed from the Tone Mapping section. These are replaced by the new Toning Curve and Saturation adjustments in the Post Process tab, which offer more precise control.
Improved color management in the user interface: Although the previous PTGui 12 beta version was color managed, it still assumed the computer display has an sRGB display color profile. Now PTGui will use the actual ICC profile of the display when rendering the Panorama Editor and other windows. Wide gamut displays (such as the P3 displays on recent iMac and MacBooks) are now properly supported.
The output color profile can now be chosen in the Create Panorama tab. A few preset ICC profiles are provided, or a custom .icc or .icm file can be loaded. If all images have the same color profile, the same profile will be used for the stitched panorama by default, but this can be overridden.
Much better image quality when working with raw/dng source images, due to the new toning, white balance and saturation adjustments. Panoramas from RAW/DNG are no longer limited to sRGB output.
The 'Individual Layers' output now has vignetting, exposure and white balance correction applied. This is the original behavior in PTGui 11. The previous PTGui 12 beta would output the warped images without any corrections applied. With the corrections applied, the individual layers can be used more easily for retouching the blended panorama.
PTGui now reads and writes color profile data in EXR images. Conform the official OpenEXR specification, the color profile is read and written in the 'chromaticities' tag. But note that this is not widely supported. Many other applications (including Photoshop) ignore this entirely, and assume all .exr files have a linear sRgb color profile.
The PTGui Viewer is now color managed and will display panoramas in the proper colors.
The scale of the vignetting curve (in the Exposure/HDR tab) for circular fisheye lenses has been adjusted. Previously, for all lens types, the right edge of the graphs corresponds to the corner of the source image (after cropping). Because for circular fisheye images the cropping circle only extends to the edges of the cropping area, but not the corners, for circular fisheye images only the leftmost 71% of the vignetting curve was actually applicable. The graph is adjusted so that the right hand side corresponds to the edge of the image circle.
Publish to Website now generates image tiles in sRGB color space, so the panorama will be displayed with proper colors. WebGL only supports sRGB currently.
The images generated by Convert to Cubic and Create Philosphere now include an ICC color profile.
Improved visibility of the magnifying glass (showing the position of the Detail Viewer) in the Panorama Editor window
Improved metadata support: most XMP metadata is now copied from the first source image to the panorama. This includes for example author, location, copyright info and custom XMP data. Generally all XMP metadata is copied, except for metadata specific to the source image but not applicable to the panorama. For example metadata concerning focal length or the image size is not copied to the panorama, but replaced with appropriate values for the stitched image.
The following additional EXIF tags are now copied from source images to the stitched panoramas: Artist, Copyright, GPS date, GPS time, GPS satellites, camera make/model
Metadata is now written to Photoshop files as well. Previously this was limited to jpeg and tiff output.
Fixed: several bugs causing PTGui to crash or show 'Assertion Failed' errors.
Fixed: GPS altitude in the metadata would be incorrectly set to Above Sea Level, if the actual value is below sea level.
Fixed: Thumbnails in Batch Builder were not color managed
Fixed: the panorama editor would not be updated when applying a numerical transform in certain circumstances
Fixed: PTGui web viewer (Publish to Website) in Firefox 75: the panorama would be visible only while rotating. When stationary, the image disappeared.
Fixed: visible banding in HDR images created from bracketed images
Fixed: when activating PTGui with a company license key on macOS, PTGui would not ask whether it should be activated for all users on the computer.

Version 12 beta 5 (22 May 2020)

Fixed: crash or 'assertion failed' error when stitching certain projects
Fixed: PTGui would crash on startup on macOS 10.11 or earlier
Fixed: possible posterization in shadows if GPU acceleration was enabled

Version 12 beta 6 (29 May 2020)

Fixed: possible Assertion Failed errors or crashes.
Fixed: incorrect seam preview in panorama editor and detail viewer. For the panorama editor and detail viewer, the seam finder would ignore any masks. The seams would not be routed properly around masks. The seams in the final stitched panorama were correct.
Fixed: 'Interpolator: Default' should use Bicubic Soft for floating point HDR source images, Lanczos2 otherwise. This didn't work correctly, Lanczos2 was always used, resulting in artifacts e.g. around bright or dark objects when processing .exr or .hdr source images.
Fixed: when converting between color spaces, out-of-gamut colors would be desaturated.
Fixed: the detail viewer and panorama editor would not always update automatically after changes.

Version 12 beta 7 (10 June 2020)

PTGui now runs on Linux! For details see PTGui 12 for Linux in the PTGui support forum.
Create Panorama tab: PTGui now displays a warning if the source image color profile is not used (e.g. if different color profiles are used, or if raw/dng images are loaded)
Exposure/HDR tab: warning if the camera curve is not actually used in the project. A camera curve must be assigned to one or more images in the Image Parameters tab.
New option: Options - General - "Keep multiple panels open in the side bar in the panorama editor"
New setting: Exposure/HDR - Precision: switch the internal processing precision between half float and full float. Full float can be used for images with extremely high dynamic range (e.g. when including the luminance of the Sun). Otherwise half float is sufficient, requires less memory and is the default setting.
New setting: Project Settings - 'Align Images' behavior - perform automatic exposure and color adjustment - but only if alignment was succesful.
Automatic exposure and color adjustment is now done by default as part of 'Align Images'.
All sliders can be moved slower an more precisely by dragging while holding down the Shift key
All sliders can be moved slower an more precisely by holding down the Shift key together with the left/right arrow key
Post Process - Saturation: right clicking on a slider resets the value to 100%
Windows 10 v1909 (Windows November 2019 update) natively supports dark-themed applications, and PTGui now uses the functionality provided by Windows to create a dark-themed title bar. Previously PTGui had to custom draw the entire window frame in order to get a dark title bar, but this caused a few subtle problems which were difficult to fix.
On Windows 10 v1909 and later: Better High-DPI scaling. The menu bar and title bar are now scaled correctly when using multiple monitors with differen DPI settings.
Fixed: PTGui failed to load images with ACES2065-1 color profile (Asssertion Failed).
Fixed: cropping a cylindrical or equirectangular source image would cause the wrong projection to be used.
Fixed: Automatic exposure and color adjustment could result in extremely non-linear camera curve.

Version 12 beta 8 (7 July 2020)

Preview exposure (as set in the Display panel in the Panorama Editor, and the sliders in Mask/Crop/Control Points) is no longer saved to the project file. Preview exposure is reset to 0 when the project is loaded the next time. This was a common source of confusion because it changes the brightness of the panorama in the Panorama Editor but not the actual stitched panorama.
A warning icon is shown in the Panorama Editor's side bar if the preview exposure is nonzero.
Green indicators are shown in the Tone Mapping, Exposure Fusion and Post Processing side bars in the Panorama Editor when they are active.
Improved Exposure Fusion, the results should now be similar to PTGui 11 again
Improved the algorithm for brightness-dependent saturation (in the Post Process tab), resulting in more naturally looking desaturated highlights.
If the camera curve is optimized (using 'Optimize Now!'), the associated brightness-dependent saturation curve is also optimized. The desaturation of highlights (as done by raw converters) is now better compensated for, resulting in better HDR merging. The optimized curve can be inspected by clicking on the 'pencil' button in the Exposure/HDR tab.
Increased the range for the Expsosure slider in the Post Process tab, from +-2 to +-5 EV.
Many corrections to the French translation, merci beacoup Sébastien!
Holding down the Shift key while launching PTGui will disable OpenCL for the current session. This may be helpful when dealing with GPU driver problems.
Configurable seam finding precision. By default optimum seam finding is done at a lower resolution than the full size, to reduce the time and memory needed. The precision is now configurable in the Blending sidebar in the panorama editor. For certain panoramas increasing the seam finding precision will lead to more seamless panoramas, at the expense of considerably more memory usage and longer stitching time.
Fixed: Possible banding in True HDR panoramas
Fixed: True HDR panoramas could get desaturated highlights. In particular, blue sky could become grey in the HDR panorama.
Fixed: Windows: when editing a text or numeric field on a high DPI screen, the font size would be too large
Fixed: Optimum seam finder would occasionally place small 'islands' of one image inside another image
Fixed: Assertion Failed errors for certain projects
Fixed: HDR merging artifacts when using bracketed sets with a very wide EV range (say, 20EV)
Fixed: When generating control points for bracketed images, control points would be generated between linked images
Fixed: Blending artifacts if images contained partially transparent pixels
Fixed: For certain spherical panoramas, the Detail Viewer would show a vertical seam line at the -180 / +180 boundary
Fixed: When switching to different images in 'Edit Individual Images' in the Panorama Editor, the previously highlighted image would flash briefly.

Version 12 beta 9 (7 July 2020)

Fixed: Wrong font size on Windows

Version 12 beta 10 (17 September 2020)

PTGui 12 runs natively on future Apple Silicon macs (universal binary)
DNG files from the Leica M10 Monochrom camera are now supported.
Added Load/Save/Defaults buttons in the Exposure Fusion panel in the Panorama Editor side bar
Added Defaults button in the Post Processing panel in the Panorama Editor side bar
Changing the 'Exposure' slider in the panorama editor side bar no longer affects the brightness of the source images in the main window. Only the Preview Exposure slider still works globally in all windows.
'Exposure and color adjustment settings' window: 'Optimize Exposure' has been renamed to 'Optimize Brightness' which is more correct. The former two options (Full and Fine Tune) have been replaced by a single option 'Enabled'.
Fixed: occasional crashing
Fixed: Windows: menu bar was displayed with incorrect font size if the font/icon size in Options was not set to 100%
Fixed: user interface glitches under macOS 11.0 (Big Sur)
Fixed: the results of automatic exposure and color adjustment ('Optimize Now') were not perfect and also unstable. Running Optimize Now! multiple times would give widely different results. This is much improved now. Vignetting correction is much better and HDR artifacts (banding or posterization) should mostly gone now.
Fixed: incorrect warning in the Create Panorama tab about different source ICC profiles, even though all images have the same icc profile
Fixed: incorrect rotation of JPG images from the Ricoh Theta Z1 taken with the DualFisheye plugin
Fixed: HDR TIFF files would always contain an alpha channel, even if 'No alpha channel' was selected in the file format settings.
Fixed: When working with bracketed source images, the merged bracketed images (as displayed in the Crop/Mask/Control Points tab) were displayed overly bright
Fixed: PTGui Viewer on macOS 10.14 and earlier, retina screen: the panorama would only occupy a quarter of the viewer window
Fixed: the exposure fused or tone mapped panorama could be very dark
Fixed: straightening panorama did not work accurately if a nadir or zenith image was included in the project.
Fixed: visible artifacts could appear at the right hand edge of the panorama for certain projects
Fixed: seams could be routed differently in the stitched panorama compared to the preview in the Panorama Editor
Fixed: PTGui could report that the source images had different color profiles, even though they were identical

Version 12 beta 11 (23 September 2020)

Fixed: HDR (.hdr, .exr) output: the left part of the image could be corrupted or black
Fixed: Several problems in vignetting correction and camera curve estimation, resulting in overly saturated HDR images, halos and other image artifacts
Fixed: The default Post Processing settings would result in an over saturated image when doing tone mapping or exposure fusion
Fixed: Loading .GPR (GoPro raw) files failed with an error message
Fixed: Creating a Philosphere on macOS failed with an error message

Version 12 beta 12 (1 October 2020)

A different algorithm ia used for the toning / camera curve. The new algorithm gives a natural looking result without requiring an additional brightness dependent saturation adjustment.
Removed saturation curve from the Camera Curve section (exposure/HDR tab)
Replaced the brightness-dependent saturation in Post Processing with a single Saturation slider
Fixed: excessive noise / posterization in Exposure Fusion
Fixed: posterization artifacts could occur in dark saturated colors
Fixed: significant brightness differences between overlapping images might cause PTGui to estimate an extremely nonlinear camera curve, causing image artifacts.
Fixed: in rare cases one of the source images would not be included in the blended panorama, leaving a hole.

Version 12 beta 13 (23 November 2020)

Added support for hand held HDR panoramas. In PTGui Pro 11 and before it was possible to create HDR panoramas from bracketed images without linking the bracketed images. In the previous PTGui Pro 12 beta versions this was not yet possible, HDR panoramas had to be taken from a tripod. This is possible again from now on. The workflow had to change slightly from PTGui 11 due to the new optimum seam finding: when creating bracketed blend planes, it's important to have the seams for all blend planes in the same position. Also the new 'merge to HDR first, then blend' workflow must be supported. To accommodate this, PTGui Pro now allows linking of bracketed images while still giving each of those linked images an independent position (yaw, pitch, roll and viewpoint). By linking the bracketed images, the seam optimizer knows they should be treated as a single entity. And in the 'merge to HDR first, then blend' workflow the images will be merged appropriately. In the Image Parameters tab, there's a new 'Link' checkbox which configures whether the yaw/pitch/roll of the images should be linked or independent. This can be changed for each bracketed set individually, for example in case only the nadir image was taken hand held. Because the images may have moved slightly between shots, they cannot share the same mask. Therefore images with unlinked positions will have individual masks.
Though this may sound like a complicated change, in practice the workflow is very similar to PTGui Pro 11: after loading bracketed images and pressing Align Images, PTGui will ask whether this is an HDR panorama and whether the positions of the images should be linked or independent.
The Insta360 ONE X2 camera is supported.
Fixed: PTGui could hang (become unresponsive) when showing a tooltip.

Version 12 beta 14 (27 November 2020)

Fixed: Exposure Fusion for non-bracketed panoramas didn't work.
Feedback
Since this is a beta version it may contain bugs; therefore your feedback is much appreciated. Post any bugs, comments to the
PTGui Google group
but please check the Known Issues list below before posting.
Known issues
The following problems are known to exist in the current beta, we're working hard to solve these:
Visible banding in 8 bit output
Blend Priority parameter does not work properly
The blender uses more RAM than configured in Options/Advanced. For stitching large panoramas it may be necessary to increase the Windows page file size, otherwise Out of Memory errors may occur.
Upgrading
PTGui 12 (both the beta and the final 12.0 release) will be available free of charge to licensed users who purchased a license on or after August 1st, 2018. If you purchased before this date, you may
upgrade your license here
. But please keep in mind that the beta version will certainly contain bugs, so you may want to wait until the final version has been released. A free trial version of PTGui 12 beta is available.
Installing multiple versions side by side
You can try the beta version without overwriting your existing copy of PTGui. On Windows select a different installation folder when prompted during installation (e.g. C:\Program Files\PTGui Beta). On Mac the PTGui application can be copied from the install disk image, renamed, and installed in any folder on your mac, not just the Applications folder.
If you have accidentally overwritten your copy of PTGui you can always download the former version again from this website.
Download
Download PTGui or PTGui Pro, version 12 beta 14